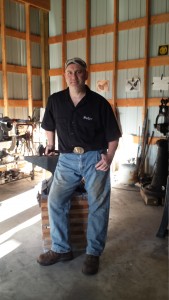 Rob "Deker" Dekelbaum first put a hammer to hot steel in 2000 at a basic blacksmithing class hosted by the Blacksmith Guild of Central Maryland. After several more classes and not much time at the forge due to his living situation at the time, he moved to Hanover, PA in 2005 and built a shop. Then in November of 2005 he took the BGCM basic knifemaking class taught by Walter VanAlstine, his son "Bucky", and David Morgan. The knifemaking bug bit hard, and the Damascus forging bug was right behind it. As of 2016 he is now the instructor of this same class as the torch has been passed to him by Walt, Bucky, and Dave.
Since starting his journey into bladesmithing, Deker has been lucky to find some great friends and mentors in the knifemaking world. In particular he owes a debt of gratitude to ABS Master Bladesmith J. Neilson for his teaching and mentoring over the years, Pattern Welding Wizard Delbert Ealy for the hours of conversation and explanation of pattern welding techniques, ABS Mastersmith Kevin Cashen for his tireless efforts to understand and educate the rest of us on the reality of steel heat treatment, and countless others who have taken the time to talk, share, and teach.
Deker was also a contestant on Season 2 of The History Channel show "Forged In Fire" where he made it to the finals, but not quite to the winner's circle.